Technology trends in banking to look out for!
In the era of digital advancement, where every service is going through digitalization, banking is not an exception. World of banking is going through a major digital transformation. To stay ahead of the curve driven by consumer demand and real-time access of financial accounts on their fingertips, digital banking applications have become indispensable. Digital banking has become need of the hour for all banks. Banking technology is constantly evolving, and, in this year, we expect to experience growth in importance of Artificial Intelligence, increasing use of low-code platforms, personalization and increased focus on security.

The last two years have driven the banks focus to be more customer centric. According to McKinsey research, 75% of customers have tried different brands in past years, and out of these 60% are expected to adopt new brands and stores. To remain relevant and competitive, financial institutions must adopt the latest trends and technologies.


Read on and delve into dynamic landscape of digital banking, where we tried to shed light on the trends that are reshaping customer experiences:-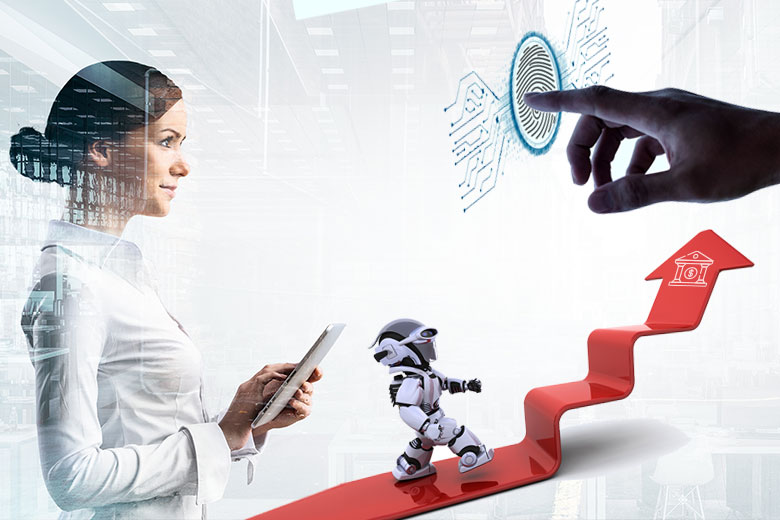 Personalisation in the banking industry:
Personalization is important for any bank when they are considering an upgrade in their digital banking. Today, customers seek empathy, customization and loyalty. Every customer expects a highly personalized and tailor-made solution when it comes to banking. This creates a loyalty by recognizing the past interactions and projecting the future needs specific to each customer. Personal-Finance-Manager, Banking-as-service, APIs, and AI adaption can help banks to move towards personalized banking and services.
Artificial Intelligence in Digital Banking:
In 2023-24, we can expect an increased use of AI in banking industry. For Example, AI-powered chatbots, 24X7 customer support and personalized recommendation is becoming a common norm in digitalization of banking. This technology can also help banks to improve fraud detection and reduce risks. Another prominent use of AI is credit risk analysis, where banks can determine the creditworthiness of the customer.
The integration of artificial intelligence (AI) is revolutionizing the banking industry, delivering personalized banking experiences, and streamlining customer service. Chatbots have become an integral part of this transformation, offering round-the-clock assistance, and enhancing the overall customer experience. By leveraging AI and machine learning algorithms, digital banking software analyses customer data to provide a customized application based on individual preferences and behaviors. According to a PwC, AI adoption in the banking industry has experienced a rise from 16% to 77% in 2022, highlighting the growing importance of this technology.
Electronic or Video KYC:
Earlier customers had to visit branches for KYC, or the KYC was done by bank stuffs at home. Even though banks have adopted digitalization in their transaction/ payment process, few things like KYC were being done physically. These past two years changed and advanced that process as well. Now there are e-KYC features in banking application, which allows customers to use there video and scan features in their mobiles to complete their KYC remotely, without any visits, making it convenient and quick. This allowed financial institutions and banks to stand in the competitive world and fill the gaps between bank and customers.
Cloud Computing:
Cloud computing is a simple concept where computing services like data warehouse, software, networking are available on internet. On implementing cloud computing, banks can add adequate security, increase productivity, scalability, speed, and convenience. This also helps in resource utilization and eliminates the requirement of physical servers.
Wearable Banking:
Wearable devices are rapidly changing the way customers make payments, providing increased convenience and accessibility. By 2030, it is projected that 60% of banks will adopt wearables as a standard payment mode. Smartwatch banking methods seamlessly synchronize with banking accounts, enabling users to conduct transactions directly from their smartwatches. In future, wearables like smart spectacles will enable payments through automatic eye scanning, further enhancing convenience and security.
Secured Digital Banking:
Security is the biggest concern when we are dealing with digital banking services. As cyber threats and fraud continue to pose risks in the digital banking landscape, robust cybersecurity measures are paramount. Advanced technologies such as biometric authentication, face recognition, and artificial intelligence are few tools implied to protect the clients from any threats. These measures ensure that customer information remains protected, and potential threats are identified and prevented. Banks need to invest in a digital banking software which is highly secured and applies all the measures to protect customers from phishing and cyber threats.
Intuitive Design:
Recognizing the importance of tailored mobile banking experiences, Banks provide efficient and tailored mobile banking apps, ensuring a smart and slick user experience. Banks chose the digital banking software which comes with a programming interface that enables users to understand the app very easily. Thus, allowing banks to carry out critical operations conveniently.
Other Future Trends that will become important for digital banking transformation:
Voice banking and voice-activated transactions, is expected to shape the banking experience in the coming years, providing even greater convenience and ease.
Augmented reality (AR) is another transformative technology set to revolutionize customer interactions with banks, offering immersive experiences for account management, transactions, and virtual interactions with customer care representatives.
For faster delivery, digital banking software are using low-code approach. According to Gartner, by 2025, 70% of new enterprise application will use low-code solutions.
Over past few years, user experiences dictated the direction of cashless transactions. The global Mobile wallet market is anticipated to rise between 2023 – 2030. The global demands for mobile wallets are predicted to surge at a
CAGR of 22%
, QR code technology-based mobile wallets are expected to hold over 47% share of global market revenue by end of 2023. By 2025, it is expected to witness a huge surge in usage.
Summary
The cutting-edge technologies empower financial organization and offer deep insights to users. In a rapidly evolving digital landscape, Banks needs to be ready to adapt the latest trends, to remain competitive and provide exceptional customer experiences.
BankFlex, a trailblazing industry leader, harnesses cutting-edge technologies to deliver innovative solutions tailored to the needs of today's banking landscape. From mobile banking to AI-powered chatbots, wearable banking, and robust cybersecurity measures, BankFlex's commitment to staying at the forefront of technological advancements ensures that its customers receive cutting-edge solutions that meet their evolving needs. As the financial industry continues to evolve, BankFlex® remains at the frontier, pioneering transformative technologies and redefining the digital banking experience for customers worldwide.

'Transformative Digital Banking Solutions'

To know more Contact Us TODAY! sales.uk@eonglobal.com