ABA Bank, Cambodia's largest commercial bank, has received its tenth consecutive prestigious "Best Bank in Cambodia" title from Euromoney, one of the world's most prominent and trustworthy financial magazines.

Euromoney applauded ABA's commitment to providing innovative banking solutions, solid expansion strategies, and remarkable growth in the Cambodian market.

The decision to confer ABA Bank with the esteemed "Best Bank in Cambodia 2023" title was further reinforced by the notable progress and enhancements made to its cutting-edge digital platform.
Read more: www.ababank.com/aba-news/aba-retains-the-best-bank-in-cambodia-title-in-2023-by-euromoney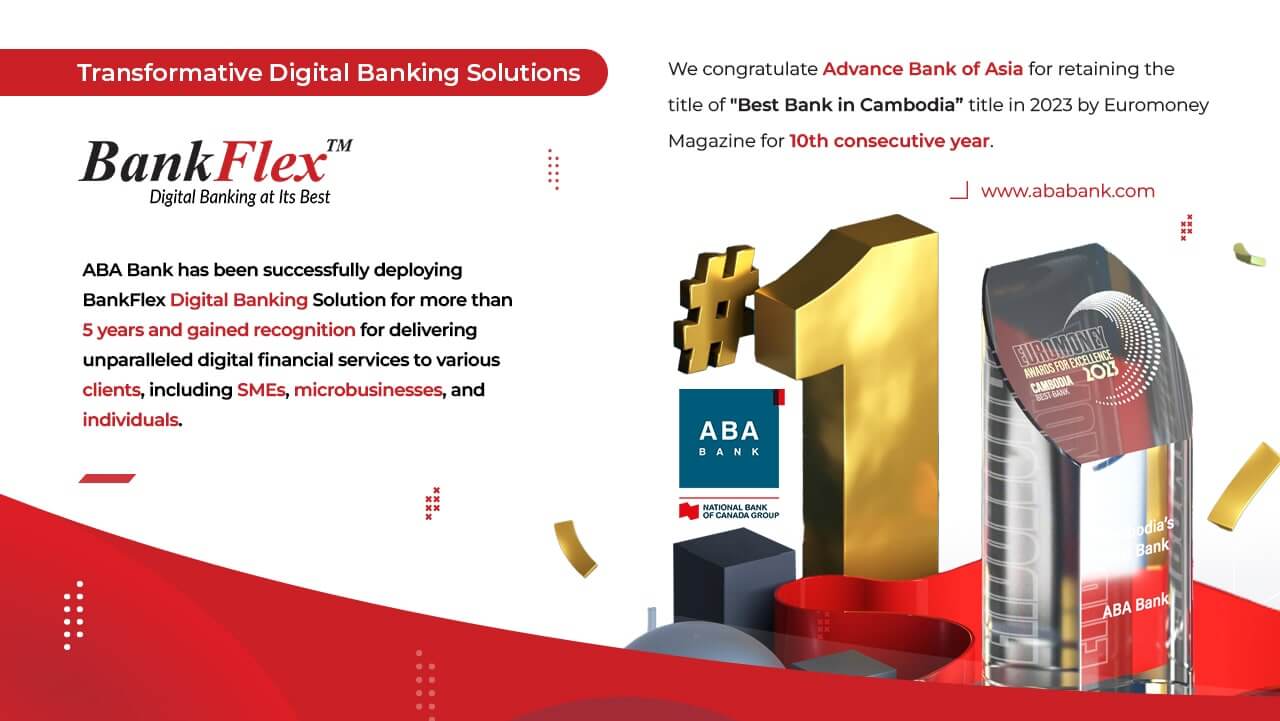 Banking processes get streamlined to give better customer experiences by accelerating the pace of digital transformation. In a way, digital transformation is ready to become a catalyst for growth and success in the banking sector. Increasing competition and growing challenges are some of the key reasons why we see more adaptation of digital transformation in banking.

ABA is one of largest bank in Cambodia backed by National Bank of Canada and associated with BankFlex for more than 5 years. ABA has been using many Bankflex Digital channels, especially a whole set of highly sophisticated Business Banking Channels, to service very small businesses to the largest corporations in the country with ease and complete security. BankFlex creates an efficient and modern banking experience for clients.

By using BankFlex omni-channel digital banking solutions, ABA has gained recognition for delivering unparalleled digital financial services to various clients, including SMEs, microbusinesses, and individuals.

BankFlex has been designed by banking technologists who have invested hundreds of person-years in building a comprehensive, robust and functionally rich solution that is highly secure, scalable and configurable.
Contact Us today to know more about our digital banking solution. sales.uk@eonglobal.com