Canadia Bank, a long-established and one of the leading commercial banks in Cambodia, has been recognized as the "Best SME Bank" in the Digital Banker's Global SME Banking Innovation Awards 2023.

The awarded title had been granted by the Digital Banker for registering a strong traction among its SME customer base in Cambodia.

Canadia Bank leverages on its digital ecosystem to make financing more accessible to SME clients.
Read more: www.canadiabank.com.kh/news/canadia-bank-wins-best-sme-bank-in-cambodia-in-global-sme-banking-innovation-awards-2023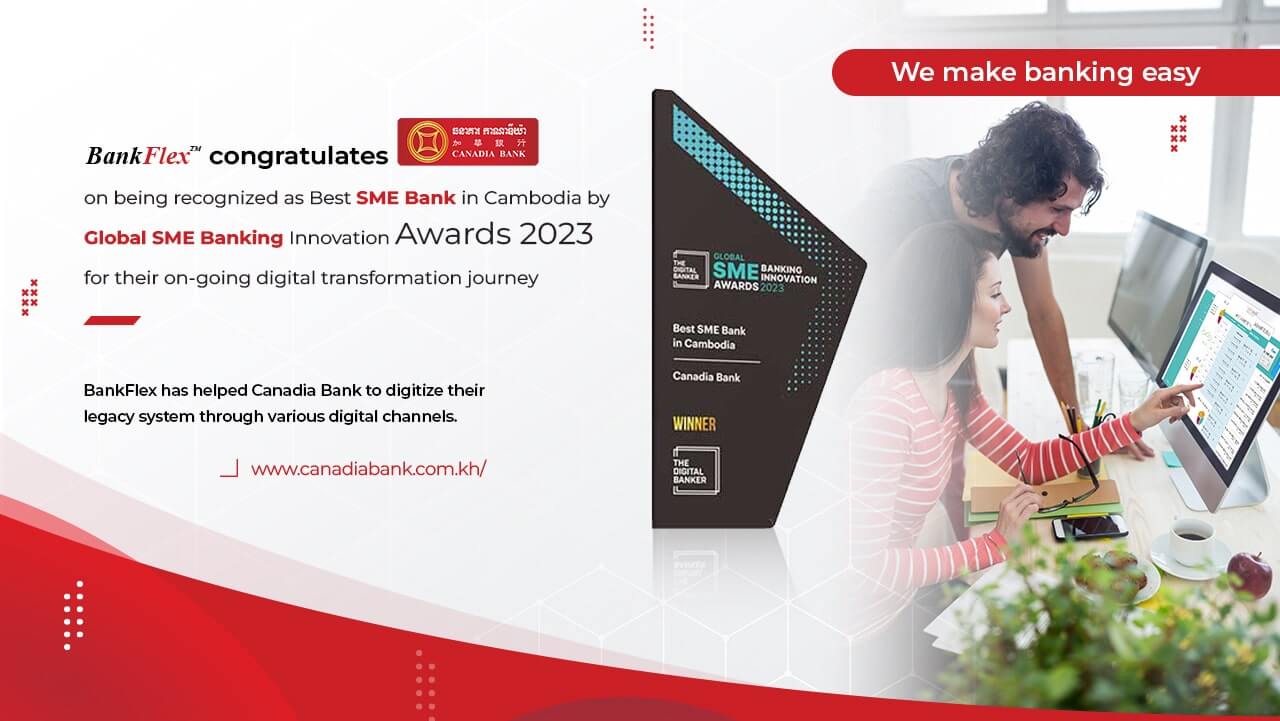 Canadia Bank has been successfully using BankFlex Digital Banking Solution with top notch experience.

The Best SME Bank Award is a recognition of Canadia Bank's on-going digital transformation journey.

With the help of BankFlex, Canadia Bank has created extremely well received personal and corporate digital platforms for their customers.

The value of digital has never been clearer.

Banks who still believe in the bars of the branch are losing momentum.

According to tech reports, 91% of people prefer using a mobile banking app instead of visiting a physical branch of a bank.

BankFlex, backed with more than 25 years of track record, transforms a bank's digital offerings to state-of-the-art. We have a track record of making our customer banks the best in digital technology in their country and region.

With all conceivable channels, extending comprehensive banking functionality serviced through robust omni-channel platform, BankFlex is simply "digital banking at its Best".
Contact Us today to know more about our digital banking solution. sales.uk@eonglobal.com